15T/D Rice Mill Plant for Senegal Customers
Time:2023-01-11
Our Senegalese customers have great interest in our rice milling machine after seeing the pictures and videos, after our salesman introduced our machine in detail, they decided to come to our factory to sow the rice milling machine, and then decide which to buy a tower.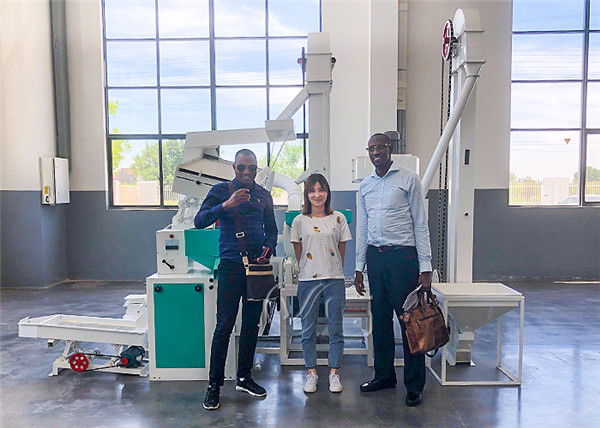 Firstly, our managers and salespeople take them to visit and inspect our rice mills, which have different capacities from 10 tons to 200 tons/day. The rice mill mainly has the following rice mills: de-stoner, huller, rice separator, grinding wheel rice mill, iron roller rice mill, and broken white rice classifier. Our engineer showed them how our machine works and they were so happy with it, they will buy a 15TPD rice mill!
This 15TPD Rice Mill Project is a small automatic rice mill plant with economical design and high technical skills. It is a complete rice processing plant contains a rice cleaning machine, rice huller machine, rice separator machine, rice mill machine, rice grader machine, rice polisher, rice color sorter, rice packing machine, etc.

This 15ton-per-day auto rice mill machine can make continue to work. The users just feed the paddy into the hopper and then operate the machine with the control box for different machine work is Ok. High working efficiency automatic working compact structure easy to operate and maintain.
If You Are Ready to Start a Rice Milling Business, please contact us for the Rice Milling Machine. We Can Provide Professional Design and Comprehensive Guidance According to Your Needs. Get in touch with us now!

Zhengzhou VOS Machinery Equipment Co., Ltd. was founded in 2000. It is an integrated solution provider of manufacturer, equipment, and service, headquartered in Zhengzhou, Henan Province, China. After more than 20 years of development, VOS Machinery has grown into a mature technology partner in rice mill manufacturing, rice destoner cleaner, rice color sorter machine, rice mill plant production line, and related product areas.


Zhengzhou VOS Machinery Equipment Co., Ltd.
Email: info@millricemachine.com
Phone/Whatsapp: 008615736756202